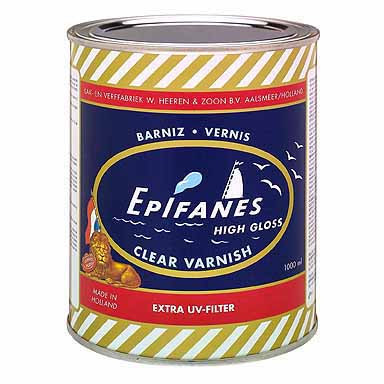 Incl. VAT
Fast Courier Delivery
Click & collect available
Order Before 1600 For Immediate Dispatch

28 Day Returns
Epifanes clear high gloss yacht varnish with an extra built-in UV filter is a...
more
Product information "Epifanes Gloss Varnish"
Epifanes clear high gloss yacht varnish with an extra built-in UV filter is a traditional tried, tested and highly regarded gloss varnish for those looking for a high-quality finish that will last. Suitable for internal use or external above the waterline (if used domestically - this means not submerged). Ideal for a clear, high gloss finish, Epifanes gloss varnish with its microscopic porosity properties ensures good adhesion on oily and vaporous woods.
A clear, tradional yacht varnish with extreme high gloss, unique flow characteristics and high build capacity. The UV filter prevents the wood against discoloration. Its flexibility prevents cracking on working wood. This varnish is famous for its high gloss retention, long lasting properties, even in tropical climates. This is a genuine yacht varnish that can give that superb finish a wooden deserves, apply up to 7 coats for mirror finish in harsh conditions with sanding in between. Drying time between coats is around 24 hours at 20 degrees. The surface is dust dry in 3 hours and it is recommended to thin the first 3-4 coats with Epifanes thinners in decreasing levels.
High Gloss Yacht Varnish
Easy application and good coverage
Extra UV resistance for finish and colour holding longevity
24-hour re-coat time at 20 degrees
Coverage single coat 14m2 per litre (this is in testbed conditions and coverage varies significantly depending on wood and conditions)
Can be air-sprayed or applied with a brush
Related links to "Epifanes Gloss Varnish"
Available downloads:
Read, write and discuss reviews...
more
Customer review of "Epifanes Gloss Varnish"
Write an review
Reviews will be published after verification.
Folgende Infos zum Hersteller sind verfübar......
more
Epifanes
Epifanes yacht varnish is one of the best marine varnishes for yachts, boats, spars and wooden boats. The varnishes can provide either a high gloss effect using their UV resistant gloss varnish, ideal for a mirror-like long lasting varnish finish, or when Epifanes Rubbed Effect Varnish is used as a top coat you can achieve a popular modern mat varnish finish. Epifanes yacht varnishes are coatings and made for the harshest of climates in the sun and salt air, as such, they are also popular with those looking for a high quality long last domestic of commercial varnish including bars and external woodwork.
Epifanes has been established for 115 years and was started in the great boat owning nation of Holland, now used by boat builders, refitters and DIY yacht owners the world over who appreciate the Epifanes varnish finish. If you require Epifanes paint, printer, epoxy coating or fillers, please contact us and we will be happy to provide a quote.