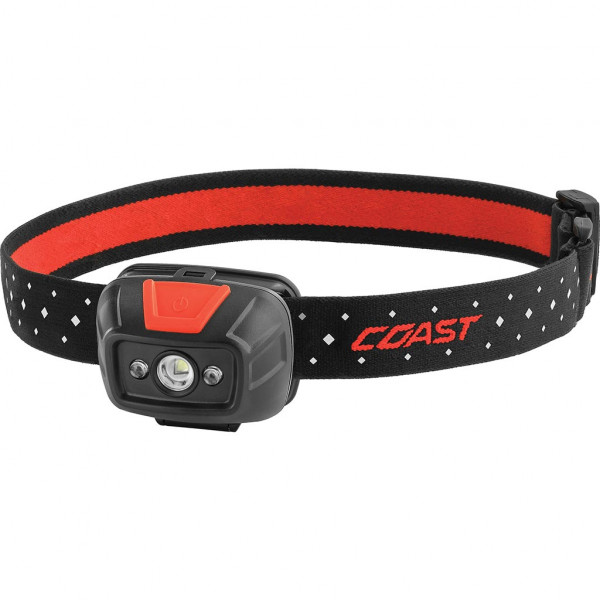 Incl. VAT
Spend £50 for Free UK Delivery
Click & collect available
Order Before 1600 For Immediate Dispatch

28 Day Returns
The Coast FL19 LED Head Torch (also known as a headlamp) is a super bright, incredibly strong...
more
Product information "Coast FL19 LED Head Torch"
The Coast FL19 LED Head Torch (also known as a headlamp) is a super bright, incredibly strong wide angled IPX4 weatherproof torch. The lifetime warranty offered by Coast tells the story with the head torch, it is impact resistant and made for hard work, on a boat, out hiking or working in dark space. With 330 lumens this is a bright torch but the added benefit of being a wide angled beam (up to 3.5 meters when close up and 1.8 meters in the distance). The single and easy to use top button allows you to swap light modes between high and low or red. Red being useful when sailing at night to maintain night vision and avoid waking others on passage.
The FL19 head torch is powered by 3 AAA batteries which give up to 3hours 15 minutes run time and weighs only 65 grams. The strap has small reflective specs in it which help locate the torch and also enables you to be more easily seen should the light be off.
Coast FL19 LED head torch
Max power 330 lumens low power 45 lumens
up to 38 meters beam distance
Runtime up to 3h 15m
3 x AAA batteries required
Wide angled flood light beam
Reflective strap
Headlamp combines our Wide Angle Flood Beam optic with a dual color feature that includes a white and red LED beam. As a result, the top button on the headlamp gives you the ability to quickly cycle through light modes. The Wide Angle Flood beam is a white LED light that illuminates large areas with an ultra-wide circular beam. Similarly, the top button on the headlamp enables the user to switch to red. The red LED light helps you preserve night vision. The headlamp comes with a reflective safety strap and an IPX4 weatherproof rating, making it perfect for any rugged environment you may find yourself. With Coast's commitment to quality, the FL19 Headlamp is impact resistant, weather resistant and its LED is virtually unbreakable. The FL19 Headlamp is backed by Coast's lifetime warranty against defects in materials and workmanship. Tested and rated to ANSI/FL1 standards.
Related links to "Coast FL19 LED Head Torch"
Read, write and discuss reviews...
more
Customer review of "Coast FL19 LED Head Torch"
Write an review
Reviews will be published after verification.
Folgende Infos zum Hersteller sind verfübar......
more
Coast
Coast Torches are tough, waterproof nearly unbreakable torches for sailing, outdoor activities, hiking or working. The mix of torches and lanterns offered by Portlands USA based Coast spans inexpensive head torches as a grab and go, walk the dog or hunt in the bilge type lighting all the way to military grade super bright focussing rechargeable hand torches or spotlights. Coast Torches are tested, reviewed and well regarded, the torches themselves are genuinely rugged, we have dropped them, taken them swimming, abandoned them in salt water and generally put a torch through its paces, they survive and ready to work. Sailing torches do have to be tough, salt water is a killer, a head torch will be knocked and dropped and they have to work, sometimes in life or death man overboard situations or tricky navigation (especially lobster pots!). As a minimum, the headtorches and hand torches and lanterns have a 5-year warranty and some are a lifetime.